Author Assistant is a Windows desktop application for professionals authoring dictation files. Author Assistant integrates with popular digital recorders to provide the seamless importing of digital audio files from a recorder and then archival and distribution. Dictation audio files can also be imported from other sources. Thirdly, dictations can be recorded directly using Author Assistant.
Author Assistant is ideal for professionals in health services, law enforcement, legal services, and the insurance industry.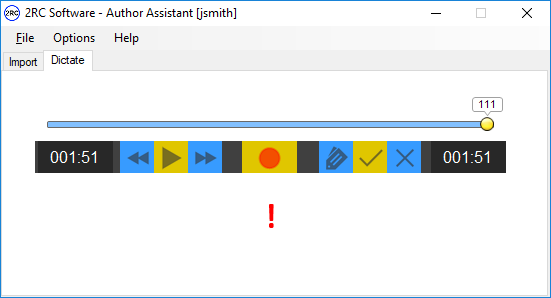 Features

Audio File Importing including Drag & Drop support
Dictate new recordings using built-in microphone, USB microphones or Philips SpeechMike
Support for importing audio files from Philips DPM Digital Recorders
Stand-alone or system-based authentication
Background Distribution Options:

Move to local or network folder
Copy to local or network option
Dropbox
Email
Amazon S3 Cloud Storage
Secure HTTPS transfer to LAN, WAN or Cloud server
ZIP with encryption

Unlimited number of metadata fields
Barcode scanning support
Transcribe Assistant is a Windows desktop productivity tool for professional transcriptionists to convert voice files into text traditionally or using speech recognition. It seamlessly integrates with Dragon Naturally Speaking and 2RC's cloud-based speech recognition service. It can be used in a stand-alone environment or in a networked environment of multiple transcriptionists. Includes footpedal support and support for more than 18 audio/video file formats including DSS/DS2.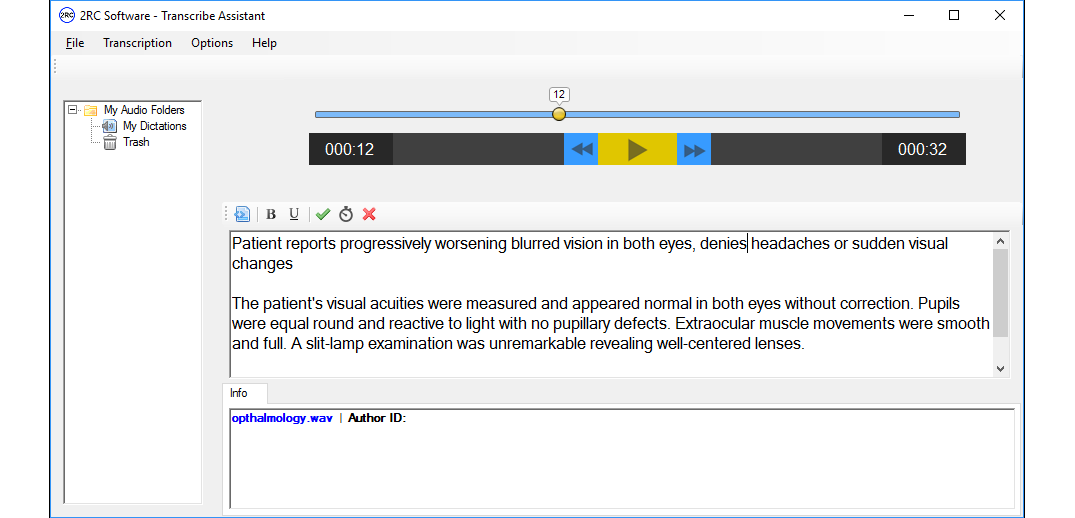 Features

Audio playback
Supports popular footpedals
Configurable and unlimited number of folders
Stand-alone or system-based authentication
Integrates with Dragon, Google and 2RC"s cloud-based Speech Recognition
Word and phrase substitutions to assist in speech recognition text correction
Supports 2RC, Philips and Dataworxs-formatted metadata files
Built-in Amazon S3 cloud storage integration
Supports audio formats:

.dss, .ds2
.wav, .mp3, .caf, .wma
.aif, .aiff, .flac, .ogg, .3gp, .amr, .m4a, .acc, .ac3, .mka, .au

Supports extraction of audio from video formats:

.mp4, .avi, .mov, .mpg, .flv
Call Assistant is a VOIP/SIP interface that accepts calls and allows the caller to author a dictation. Calls can originate from any phone including SIP (Soft) phones on a PC and mobile devices.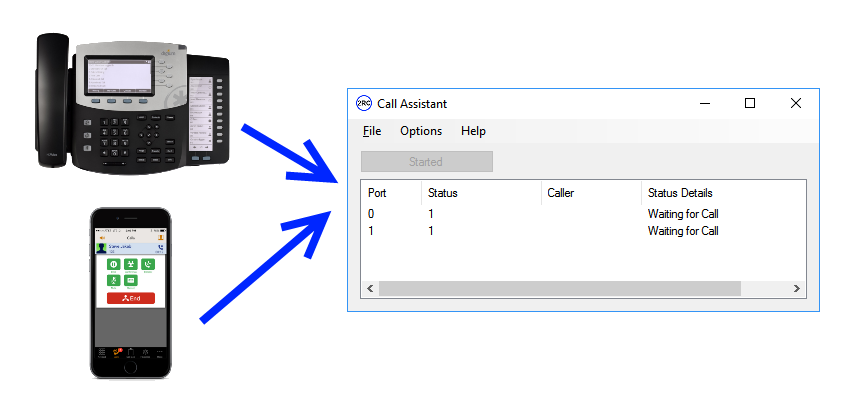 Features

User authentication.
Configurable and unlimited number of metadata/demographics entry.
Metadata entry supports:

Default value, no prompting.
Required length or length range.
List of acceptable values.

Overwrite, truncate, and auto-append recording modes.
Author-specific prompts sets for language or facility support
Configurable descriptor (XML) file creation, supporting 2RC, Philips and Dataworxs systems.
Real-time channel status display.
Audit log.
Configurable DTMF tone mapping on a per-caller basis.
Time Logger is a Windows desktop application for consultants and freelancers that tracks time spent for specific customers and specific projects. Each time log entry can be described and assigned a billing rate. A flag indicates if the time log has been billed or not.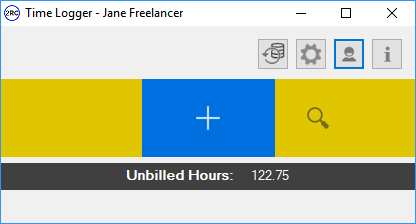 Email Client is a simple SMTP email client by 2RC Software. The email utility is useful for diagnosing email SMTP setting issues and working out connectivity problems.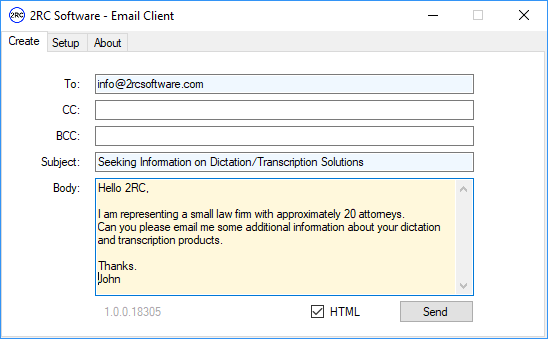 Notification Assistant provides background monitoring of one or more folders to recognize when a new file is created. Once recognized, Notification Assistant sends an email notification to the address specified globally for the folder or, if an author ID can be determined, sent to an author-specific notification email address.
The Notification Assistant appliction also supports visual notification of a new file with a supported USB LED inidicator light.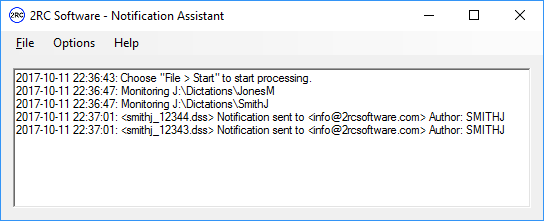 Speech Recorder is a speech recording application for your mobile phone that is specifically designed for professionals that dictate on a regular basis. Health-care, legal, insurance and law enforcement professionals will benefit from the convenience of using the mobile device they already have and Speech Recorder's powerful features to allow easy creation and distribution of dictations.
Use Speech Recorder with or without an account. A 2RC account provides additional features such as dynamic metadata definitions and selections, additional distribution options, and speech recognition. Creating an account is free and allows you to purchase Credits. Credits are required for some enhanced features of Speech Recorder.
Speech Recorder is ideal for professionals in health services, law enforcement, legal services, and the insurance industry.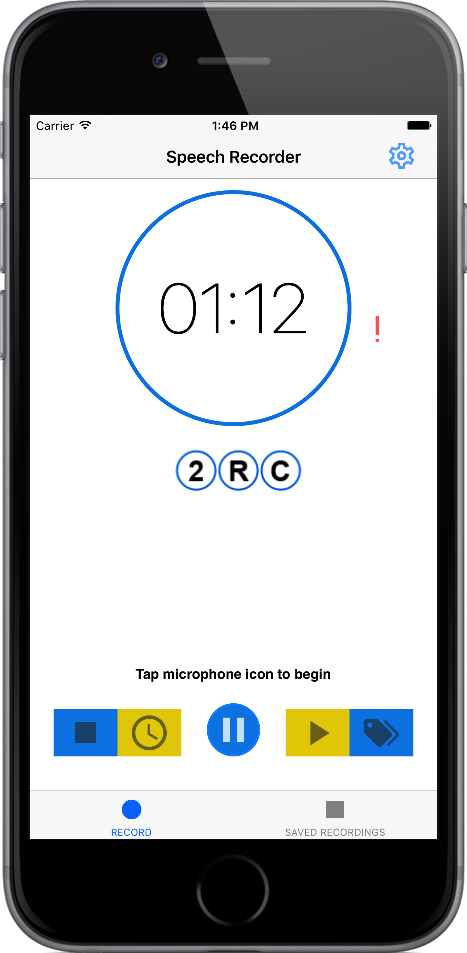 Standard Features
Record audio for dictation, note taking, interviewing, etc.
Configurable recording quality
Flag recording as priority
Configurable metadata fields (up to 4)
Share audio file via email, bluetooth, cloud services (dropbox, ...), and more
Pause and resume recording
Save a recording as pending to be resumed later
Even more features available with a 2RC Account!
Unlimited number of metadata fields
Securely upload to 2RC server for additional distribution options
Receive dictation via email w/ metadata value(s) in subject and/or body
Perform speech recognition and receive transcript via email
Submit to transcription service
Encrypted cloud archival (requires Amazon AWS account)
"Unlimited" number of metadata fields
Configurable metadata selection values
Hidden and read-only metadata fields
Shake to contact server and display credits available
Custom logo on RECORD view (downloaded from server)
Products
Copyright © 2017-2023 2RC Software Solutions Inc. All rights reserved.
v1.0.20125